Massage and Medicine
Breast cancer, early diagnosis and lymphatic drainage after mastectomy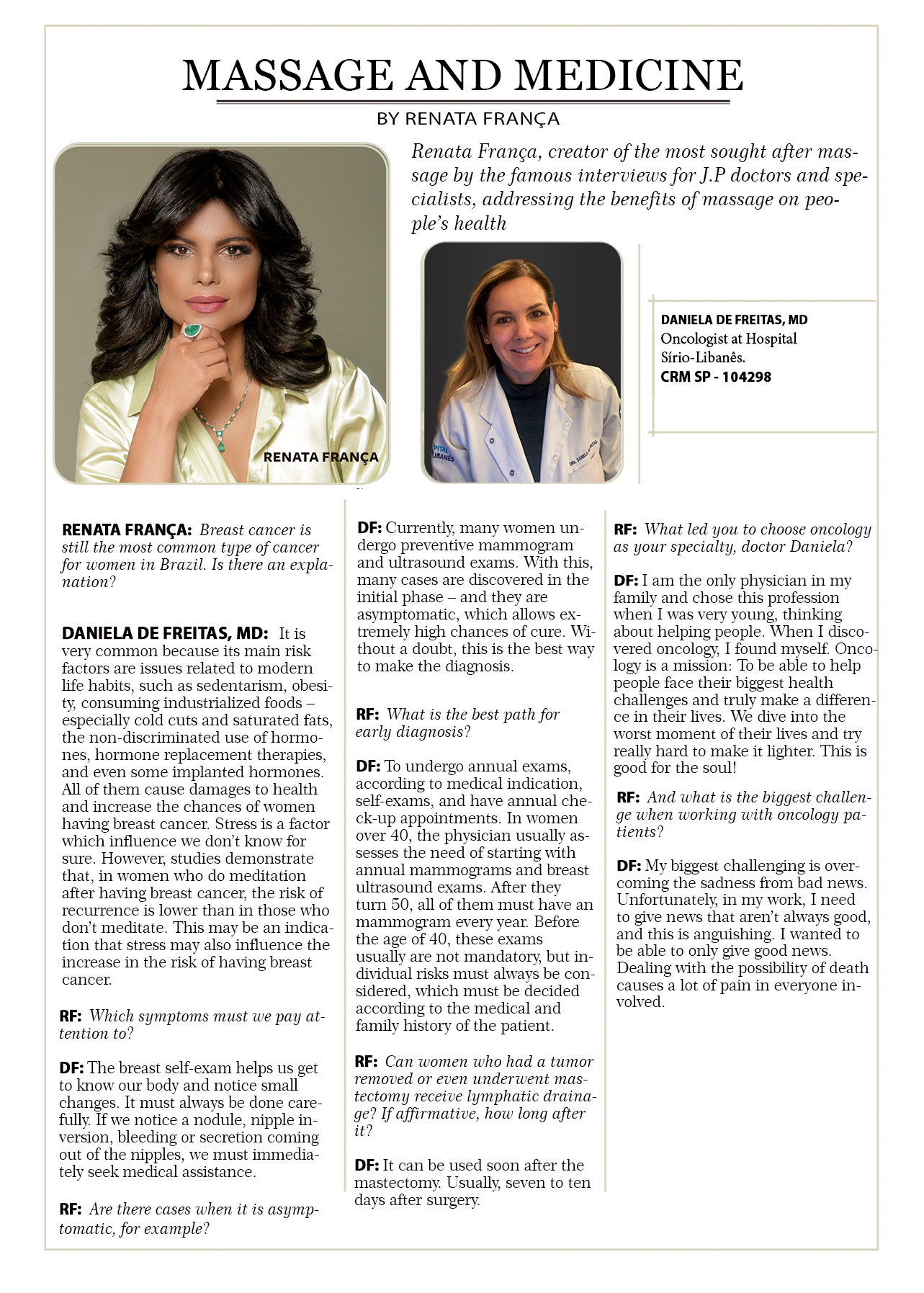 Daniela de Freitas, MD, Oncologist at Hospital Sírio-Libanês CRM SP - 104298
Breast cancer is still the most common type of cancer for women in Brazil. Is there an explanation?
It is very common because its main risk factors are issues related to modern life habits, such as sedentarism, obesity, consuming industrialized foods – especially cold cuts and saturated fats -, the non-discriminated use of hormones, hormone replacement therapies, and even some implanted hormones. All of them cause damages to health and increase the chances of women having breast cancer. Stress is a factor which influence we don't know for sure. However, studies demonstrate that, in women who do meditation after having breast cancer, the risk of recurrence is lower than in those who don't meditate. This may be an indication that stress may also influence the increase in the risk of having breast cancer.
Which symptoms must we pay attention to?
The breast self-exam helps us get to know our body and notice small changes. It must always be done carefully. If we notice a nodule, nipple inversion, bleeding or secretion coming out of the nipples, we must immediately seek medical assistance.
Are there cases when it is asymptomatic, for example?
Currently, many women undergo preventive mammogram and ultrasound exams. With this, many cases are discovered in the initial phase – and they are asymptomatic, which allows extremely high chances of cure. Without a doubt, this is the best way to make the diagnosis.
What is the best path for early diagnosis?
To undergo annual exams, according to medical indication, self-exams, and have annual check-up appointments. In women over 40, the physician usually assesses the need of starting with annual mammograms and breast ultrasound exams. After they turn 50, all of them must have an mammogram every year. Before the age of 40, these exams usually are not mandatory, but individual risks must always be considered, which must be decided according to the medical and family history of the patient.
Can women who had a tumor removed or even underwent mastectomy receive lymphatic drainage? If affirmative, how long after it?
It can be used soon after the mastectomy. Usually, seven to ten days after surgery.
What led you to choose oncology as your specialty, doctor Daniela?
I am the only physician in my family and chose this profession when I was very young, thinking about helping people. When I discovered oncology, I found myself. Oncology is a mission: To be able to help people face their biggest health challenges and truly make a difference in their lives. We dive into the worst moment of their lives and try really hard to make it lighter. This is good for the soul!
And what is the biggest challenge when working with oncology patients?
My biggest challenging is overcoming the sadness from bad news. Unfortunately, in my work, I need to give news that aren't always good, and this is anguishing. I wanted to be able to only give good news. Dealing with the possibility of death causes a lot of pain in everyone involved.