Massage and Medicine
Myth: cancer versus lymphatic drainage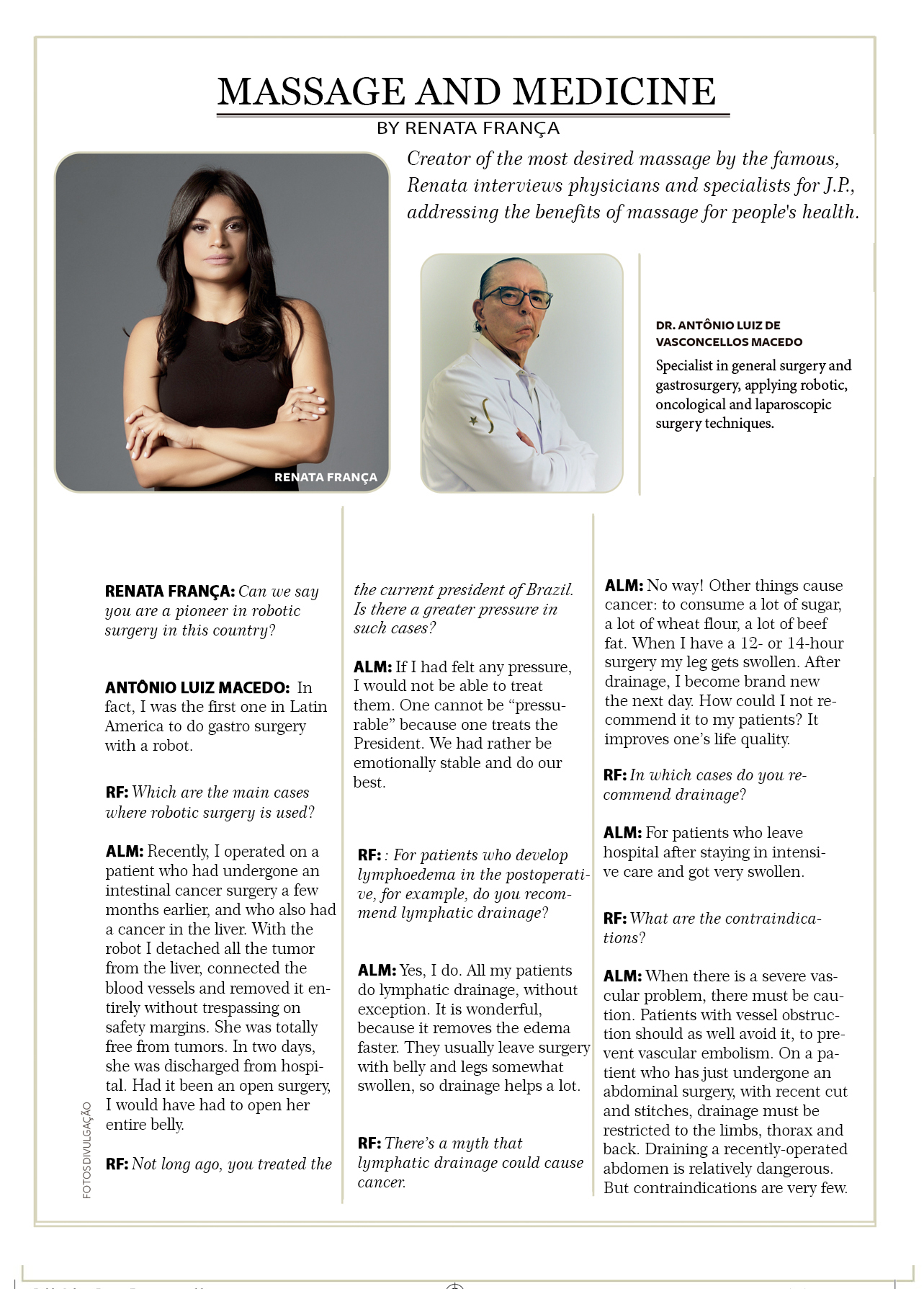 Massage and Medicine by Renata França
Creator of the massage which is the most desired by the famous, Renata interviews physicians and specialists for J.P. magazine, addressing the benefits of massage for people's health.
DR. Antônio Luiz de Vasconcellos Macedo
Specialist in general surgery and gastrosurgery, applying robotic, oncological and laparoscopic surgery techniques.
Renata França: Can we say you are a pioneer in robotic surgery in this country? Antônio Luiz de Vasconcellos Macedo: In fact, I was the first one in Latin America to do gastro surgery with a robot.
RF: Which are the main cases where robotic surgery is used? ALM: Recently, I operated on a patient who had undergone an intestinal cancer surgery a few months earlier, and who also had a cancer in the liver. With the robot I detached all the tumor from the liver, connected the blood vessels and removed it entirely without trespassing on safety margins. She was totally free from tumors. In two days, she was discharged from hospital. Had it been an open surgery, I would have had to open her entire belly.
RF: Not long ago, you treated the current president of Brazil. Is there a greater pressure in such cases? ALM: If I had felt any pressure, I would not be able to treat them. One cannot be "pressurable" because one treats the President. We had rather be emotionally stable and do our best.
RF: For patients who develop lymphoedema in the postoperative, for example, do you recommend lymphatic drainage? ALM: Yes, I do. All my patients do lymphatic drainage, without exception. It is wonderful, because it removes the edema faster. They usually leave surgery with belly and legs somewhat swollen, so drainage helps a lot.
RF: There's a myth that lymphatic drainage could cause cancer. ALM: No way! Other things cause cancer: to consume a lot of sugar, a lot of wheat flour, a lot of beef fat. When I have a 12- or 14-hour surgery my leg gets swollen. After drainage, I become brand new the next day. How could I not recommend it to my patients? It improves one's life quality.
RF: In which cases do you recommend drainage? ALM: For patients who leave hospital after staying in intensive care and got very swollen.
RF: What are the contraindications? ALM: When there is a severe vascular problem, there must be caution. Patients with vessel obstruction should as well avoid it, to prevent vascular embolism. On a patient who has just undergone an abdominal surgery, with recent cut and stitches, drainage must be restricted to the limbs, thorax and back. Draining a recently-operated abdomen is relatively dangerous. But contraindications are very few.
See also