Massage and Medicine
Lymphatic drainage in the postoperative context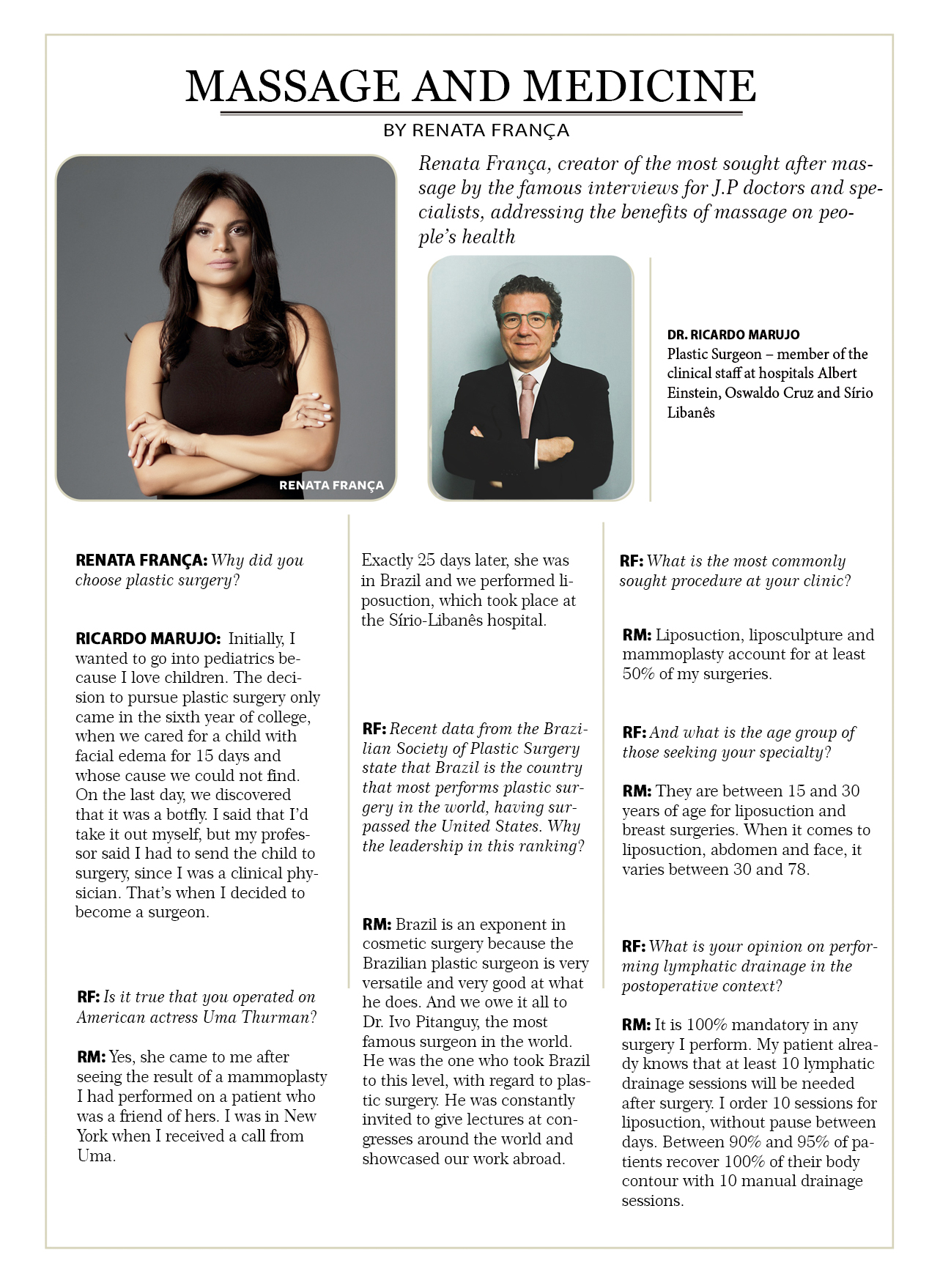 Massage and Medicine by Renata França
Creator of the most sought after massage by the famous interviews for J.P doctors and specialists, addressing the benefits of massage on people's health
Dr. Ricardo Marujo
Plastic Surgeon – member of the clinical staff at hospitals Albert Einstein, Oswaldo Cruz and Sírio Libanês – CRM-SP 42959
1- Renata França: Why did you choose plastic surgery? Ricardo Marujo: Initially, I wanted to go into pediatrics because I love children. The decision to pursue plastic surgery only came in the sixth year of college, when we cared for a child with facial edema for 15 days and whose cause we could not find. On the last day, we discovered that it was a botfly. I said that I'd take it out myself, but my professor said I had to send the child to surgery, since I was a clinical physician. That's when I decided to become a surgeon.
2- RF: Is it true that you operated on American actress Uma Thurman? RM: Yes, she came to me after seeing the result of a mammoplasty I had performed on a patient who was a friend of hers. I was in New York when I received a call from Uma. Exactly 25 days later, she was in Brazil and we performed liposuction, which took place at the Sírio-Libanês hospital.
3- RF: Recent data from the Brazilian Society of Plastic Surgery state that Brazil is the country that most performs plastic surgery in the world, having surpassed the United States. Why the leadership in this ranking? RM: Brazil is an exponent in cosmetic surgery because the Brazilian plastic surgeon is very versatile and very good at what he does. And we owe it all to Dr. Ivo Pitanguy, the most famous surgeon in the world. He was the one who took Brazil to this level, with regard to plastic surgery. He was constantly invited to give lectures at congresses around the world and showcased our work abroad.
4- RF: What is the most commonly sought procedure at your clinic? RM: Liposuction, liposculpture and mammoplasty account for at least 50% of my surgeries.
5- RF: And what is the age group of those seeking your specialty? RM: They are between 15 and 30 years of age for liposuction and breast surgeries. When it comes to liposuction, abdomen and face, it varies between 30 and 78.
6- RF: What is your opinion on performing lymphatic drainage in the postoperative context? RM: It is 100% mandatory in any surgery I perform. My patient already knows that at least 10 lymphatic drainage sessions will be needed after surgery. I order 10 sessions for liposuction, without pause between days. Between 90% and 95% of patients recover 100% of their body contour with 10 manual drainage sessions.
7- RF: For what specific cases do you believe that drainage can be an ally? RM: The patient undergoes lymphatic drainage in all cases I operate. I order drainage in 100% of my liposuction and face lift cases. I used to have it done right after mammoplasty surgery, but with the current prosthesis (nanotexture), I wait 15 to 20 days to perform the drainage.
8- RF: How long after surgery can the patient receive the massage? RM: In cases of liposuction and face, as of the 3rd day. Abdomen can also be done as of the 3rd day, but without massaging the detached part of the abdomen. For mammoplasty, I recommend it as of the 3rd week for patients with nanotextured breast implants or silicone. I used to also order it as of the third day.
See also