Massage and Medicine
Postoperative drainage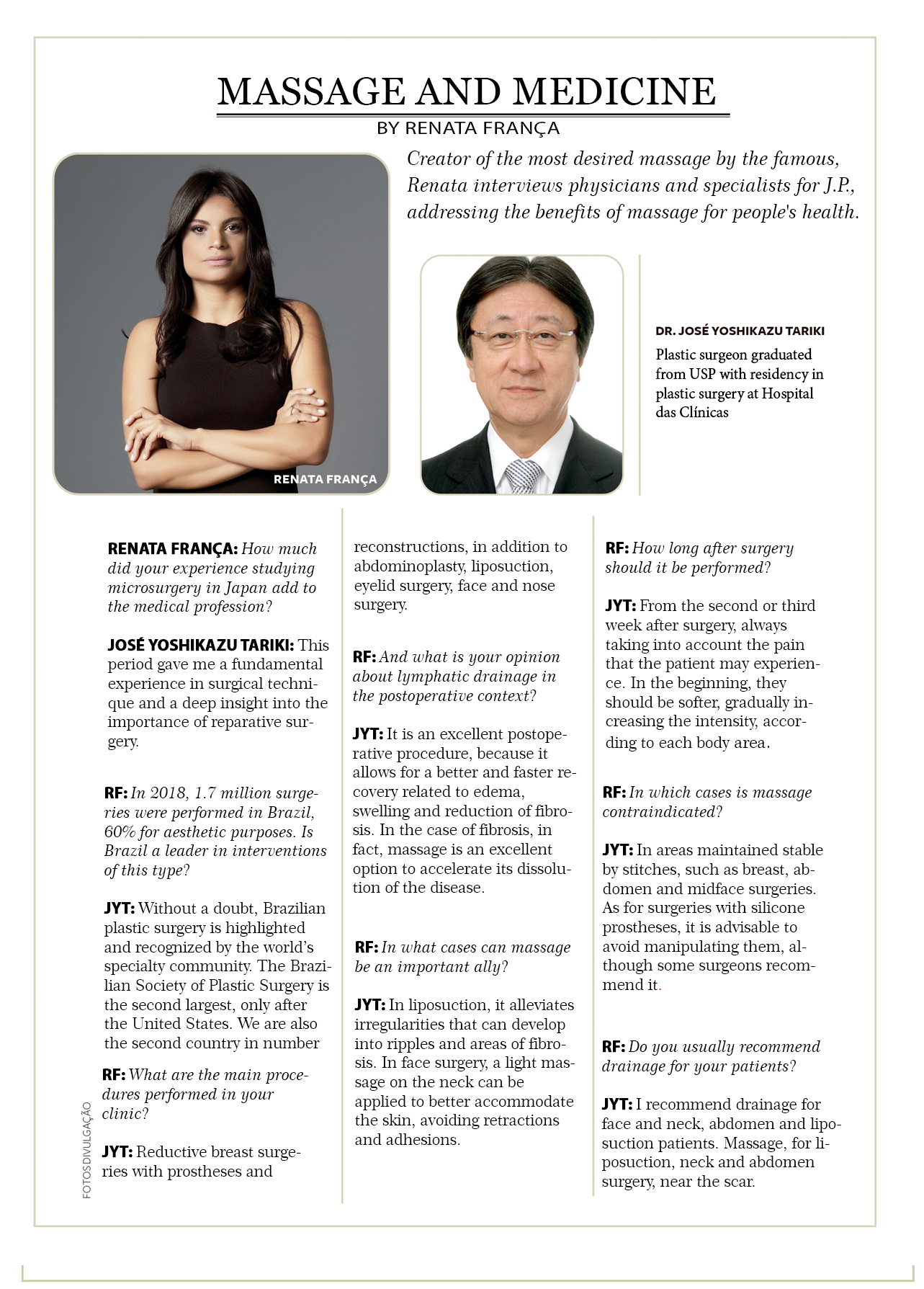 Massage and Medicine by Renata França
The creator of the most desired massage by the rich & famous interviews doctors and specialists for J.P, addressing its benefits on people's health
DR. José Yoshikazu Tariki
Plastic surgeon graduated from USP with residency in plastic surgery at Hospital das Clínicas
Renata França: How much did your experience studying microsurgery in Japan add to the medical profession? José Yoshikazu Tariki: This period gave me a fundamental experience in surgical technique and a deep insight into the importance of reparative surgery.
RF: In 2018, 1.7 million surgeries were performed in Brazil, 60% for aesthetic purposes. Is Brazil a leader in interventions of this type? JYT: Without a doubt, Brazilian plastic surgery is highlighted and recognized by the world's specialty community. The Brazilian Society of Plastic Surgery is the second largest, only after the United States. We are also the second country in number of plastic surgeries performed.
RF: What are the main procedures performed in your clinic? JYT: Reductive breast surgeries with prostheses and cancer reconstructions, in addition to abdominoplasty, liposuction, eyelid surgery, face and nose surgery.
RF: And what is your opinion about lymphatic drainage in the postoperative context? JYT: It is an excellent postoperative procedure, because it allows for a better and faster recovery related to edema, swelling and reduction of fibrosis. In the case of fibrosis, in fact, massage is an excellent option to accelerate its dissolution of the disease.
RF: In what cases can massage be an important ally? JYT: In liposuction, it alleviates irregularities that can develop into ripples and areas of fibrosis. In face surgery, a light massage on the neck can be applied to better accommodate the skin, avoiding retractions and adhesions.
RF: How long after surgery should it be performed? JYT: From the second or third week after surgery, always taking into account the pain that the patient may experience. In the beginning, they should be softer, gradually increasing the intensity, according to each body area.
RF: In which cases is massage contraindicated? JYT: In areas maintained stable by stitches, such as breast, abdomen and midface surgeries. As for surgeries with silicone prostheses, it is advisable to avoid manipulating them, although some surgeons recommend it.
RF: Do you usually recommend drainage for your patients? JYT: I recommend drainage for face and neck, abdomen and liposuction patients. Massage, for liposuction, neck and abdomen surgery, near the scar.
See also