Massage and Medicine
Massage during pregnancy and postpartum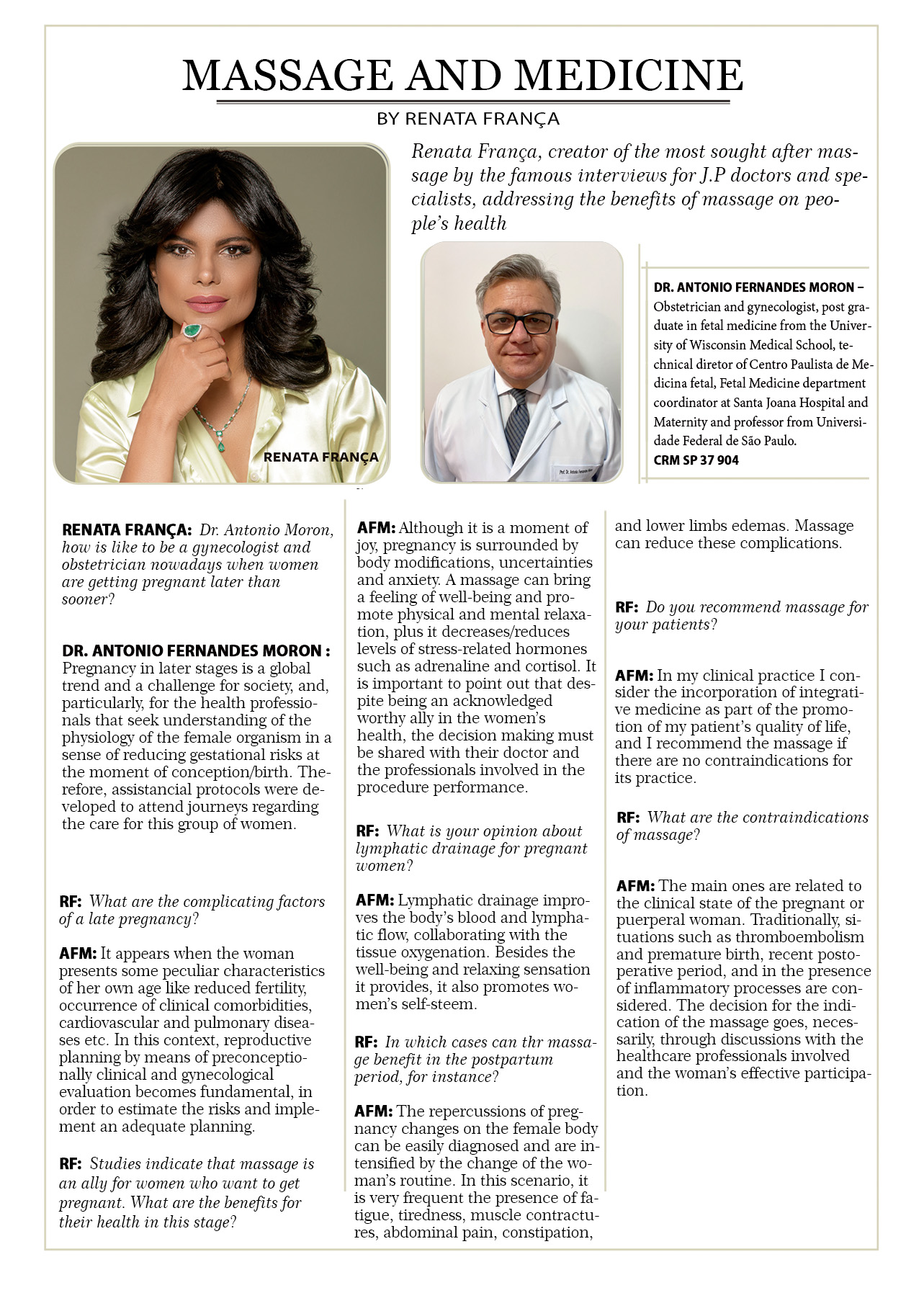 Dr. Antonio Fernandes Moron – CRM SP 37 904
Obstetrician and gynecologist, post graduate in fetal medicine from the University of Wisconsin Medical School, technical diretor of Centro Paulista de Medicina fetal, Fetal Medicine department coordinator at Santa Joana Hospital and Maternity and professor from Universidade Federal de São Paulo.
Dr. Antonio Moron, how is like to be a gynecologist and obstetrician nowadays when women are getting pregnant later than sooner?
Pregnancy in later stages is a global trend and a challenge for society, and, particularly, for the health professionals that seek understanding of the physiology of the female organism in a sense of reducing gestational risks at the moment of conception/birth. Therefore, assistancial protocols were developed to attend journeys regarding the care for this group of women.
What are the complicating factors of a late pregnancy?
It appears when the woman presents some peculiar characteristics of her own age like reduced fertility, occurrence of clinical comorbidities, cardiovascular and pulmonary diseases etc. In this context, reproductive planning by means of preconceptionally clinical and gynecological evaluation becomes fundamental, in order to estimate the risks and implement an adequate planning.
Studies indicate that massage is an ally for women who want to get pregnant. What are the benefits for their health in this stage?
Although it is a moment of joy, pregnancy is surrounded by body modifications, uncertainties and anxiety. A massage can bring a feeling of well-being and promote physical and mental relaxation, plus it decreases/reduces levels of stress-related hormones such as adrenaline and cortisol. It is important to point out that despite being an acknowledged worthy ally in the women's health, the decision making must be shared with their doctor and the professionals involved in the procedure performance.
What is your opinion about lymphatic drainage for pregnant women?
Lymphatic drainage improves the body's blood and lymphatic flow, collaborating with the tissue oxygenation. Besides the well-being and relaxing sensation it provides, it also promotes women's self-steem.
In which cases can thr massage benefit in the postpartum period, for instance?
The repercussions of pregnancy changes on the female body can be easily diagnosed and are intensified by the change of the woman's routine. In this scenario, it is very frequent the presence of fatigue, tiredness, muscle contractures, abdominal pain, constipation, and lower limbs edemas. Massage can reduce these complications.
Do you recommend massage for your patients?
In my clinical practice I consider the incorporation of integrative medicine as part of the promotion of my patient's quality of life, and I recommend the massage if there are no contraindications for its practice.
What are the contraindications of massage?
The main ones are related to the clinical state of the pregnant or puerperal woman. Traditionally, situations such as thromboembolism and premature birth, recent postoperative period, and in the presence of inflammatory processes are considered. The decision for the indication of the massage goes, necessarily, through discussions with the healthcare professionals involved and the woman's effective participation.